Sunday Worship Service: 10:30 a.m.
Choir Rehearsal: Wednesday,
7:30 p.m. & Sunday, 9:45 a.m.
Come join the fun!!!
11 Wilmot Road, New Rochelle, NY 10804
Phone: (914) 636-0047
Email: office@stjohnsnewroc.org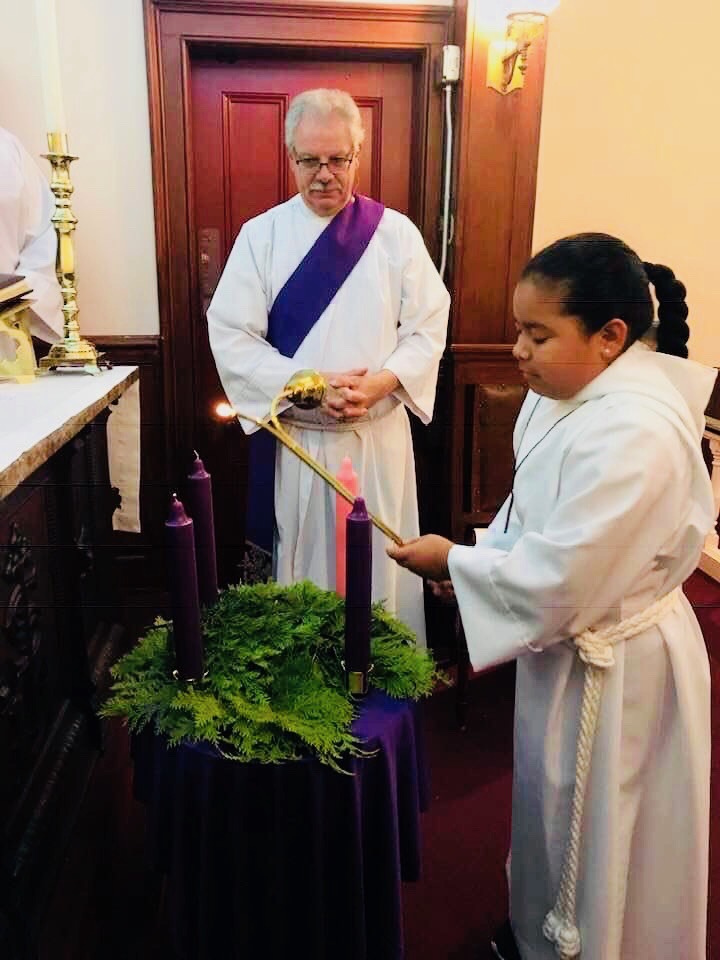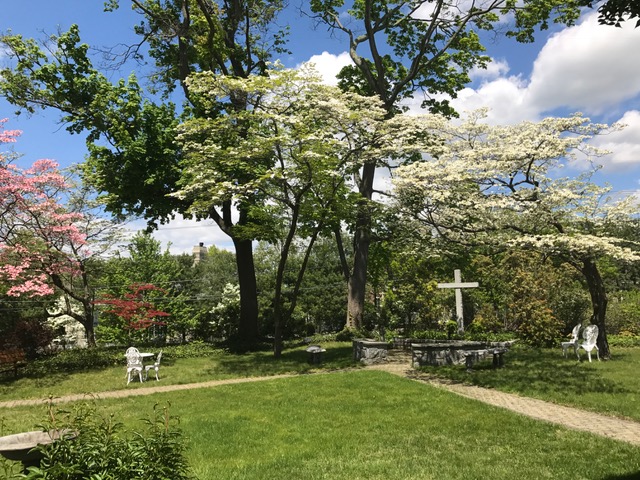 Dear Friends,
St. John's is a vibrant community of folks who gather on Sundays and throughout the week to carry out our mission and ministry in the city of New Rochelle and beyond.
Once purely a "local" church known as "the little church on the hill," our members now also travel from as far away as The Bronx, Queens, and Brewster, to participate in our unique way of proclaiming what we believe as Episcopalians in the Diocese of New York. And we are so fortunate to be able to proclaim and live out God's word in a beautiful chapel, parish hall, and gardens, set on six acres. Our chapel, built in 1859, has been the church home to Norman Rockwell, among other New Rochelle notables.
We are proud of our 161-year history, but we are especially proud to say that in 2019 we are an "open church" that constantly and purposefully seeks to create a warm and loving community, welcoming everyone regardless of where you might be on your spiritual journey. We hope you'll join us on Sunday mornings for worship at 10:30 a.m., for Bible Study on Tuesday evenings at 7:30, for Spiritual Discussion on Wednesdays at 12:30, and for any of our activities that are listed on our Worship & Event Schedule page. We can promise you one thing: It won't be dull!
Faithfully yours,
Lanny Miller
and Christiane Quinif, Wardens
and
The Rev. Jennie Talley, Rector
Worship and Event Schedule
Tuesday, October 15, 22, 29, 7:00 – 8:30 p.m.: BIBLE STUDY- In October we will be discussing parables and creating our own Anglican Prayer Beads. 10/15- "The Pearl of Great Price"; 10/22 -
" The Parable of the Mustard Seed"; 10/29- "The Parable of the Lost Coin." For more information, please contact Ann Post at 914.837.4023.
Wednesday, October 16, 23, 30, 12:30-2:30 P.M.: BOOK GROUP- All are welcome to join in! We will be reading Krista Tippett's Einstein's God: Conversations About Science and the Human Spirit. Please contact Rev. Jennie for more information, at jennie.talley@gmail.com or 917.496.1009.
Saturday, October 19, 10:30 a.m. – 12:30 p.m.: DIOCESAN HEARING & VISION WORKSHOP,
The Stones Of Stumbling & Rocks Of Offense: Making Church More Accessible- Deacon Gene Bourquin, Diocesan Pastoral Missioner to the Deaf, will lead this workshop that will address removing barriers and building practical practices for welcoming people with vision and hearing loss into your congregation. Clergy and parish leadership throughout the Diocese of New York are invited to attend.
Sunday, October 20: Noon – 1:00 p.m.: ST. JOHN'S FINANCIAL UPDATE- Presentation in the Parish House.
Friday, October 25, 6:00 p.m.: FAMILY HALLOWEEN PARTY WITH SPAGETTI DINNER & MOVIE- In the Parish House. Costumes are encouraged but not required, and our wonderful clown, LuLu Winks, will be twisting balloons for all!
Saturday, October 26, 10:00 a.m.: VESTRY MEETING- In the Rector's office.
Saturday, October 26, 1:00 – 4:00 p.m.: SIGHT-READING HANGOUT & VOCAL ENSEMBLE LABORATORY- All are invited to gather with us in the Sanctuary and sing lots of a cappella pieces from various genres. Bring your own pieces to read through! Sight-reading advice will be both provided and encouraged/received. Refreshments will be served! For more information and to register, please contact Valerie Samn at cell/text- 646.641.6006 or valeriesamn@gmail.com.